Desirée Rumbaugh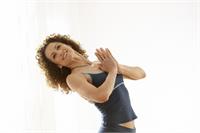 Desirée Rumbaugh, world-renowned master yoga instructor, originator of Wisdom Warriors™, and author ofFearless After Fifty: How to Thrive with Grace, Grit and Yoga, is coming to Absolute Yoga! Don't miss this opportunity to learn from this incredible light and beauty. Desiree's techniques will bring you deeper into your poses than you ever thought possible!
DESIRÉE brings over 30 years of skillful yoga study and practice to Absolute Yoga for a weekend workshop of Yoga, Pranayama, and Meditation. Now, more than ever, we need the lessons of our practice to live with presence and skill, to be less distracted, and to enjoy harmony with life. Desiree cultivates her expertise in advanced technology and scientific study of the body to offer healing and empowering asana, lively application of yogic teachings, and of course, laughter and love.
Desirée Rumbaugh is currently not instructing any classes.