Anne Davidson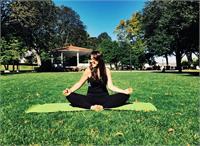 Anne took her first yoga class just over 5 years ago and has not stopped practicing since! She received her 200 hour Yoga Alliance certification through Absolute Yoga's Refined Flow program. Anne's classes are designed to give each student a personal connection to the practice and a safe space for whatever needs to come their way. Her classes embody a combination of Anusara and Prana Flow, allowing students to open theirs heart as they flow through a moving meditation focused on breath awareness. Anne also received her Kids Yoga certification through YogiBeans. Anne is a full time 3rd grade ESL teacher for the New York City schools who applies the principles of yoga so that her students can share a part of what she love.
Anne Davidson instructs the following:
Vinyasa flow classes link breath and movement to create a continuous fluid flow of postures. Vinyasa means "breathe-synchronized movement" and the beauty of this class is that the sequence, or "flow", can be different in each class, even with the same instructor. Our All Levels classes are open to every one regardless of ability or fitness level. The instructor will modify postures for beginners and increase the challenge for more advanced students.