Kristin Shelala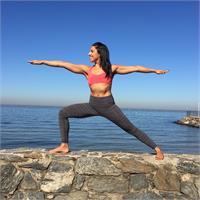 Kristen started practicing yoga in 2015 at Miami Life Center. After her first Mysore Ashtanga class, she instantly fell in love and became devoted to her Ashtanga practice. A year after embarking on this spiritual journey she decided to further her knowledge and experience by participating in a 200 hour Ashtanga Intensive Training with Kino Macgregor and Tim Feldman. As an elementary school teacher, Kristin was naturally enthusiastic to combine her newfound love for yoga with her love for teaching children. Upcoming returning to Long Island, she obtained her certification to teach children's yoga. Kristen is a dedicated yoga practitioner and devoted instructor excited to share her love and knowledge of yoga with her students.
Kristin Shelala instructs the following:
The Ashtanga Yoga method is built around the 'Mysore Style' class, so named because yoga was taught this way by Sri K. Pattabhi Jois, in Mysore, India, and continues to be taught this way in traditional Ashtanga Yoga schools around the world. In Mysore Class, the student is taught a sequence of postures through one-on-one instruction. The correct movements, breathing,and other aspects of the practice are learned gradually, in a step-by-step process accessible to anyone. This method allows each student time topractice and memorize what they have learned before adding more, encouraging commitment and accountability. Students are able to practiceindependently and at their own pace while surrounded by the energy and inspiration of other students in the room. The teacher is able to work with each student individually, which allows the practitioner to develop a deeply trusting relationship with their teacher. This unique setting allows beginners to move slowly and progress only when their body and mind are ready, as opposed to "keeping pace" with a large group. It also provides committed practitioners with a forum for learning advanced postures with the one-on-one guidance required to do them safely and accurately. It is appropriate for *all levels *of practitioners. There are no prerequisites,other than the willingness to practice.




Primary Series of Ashtanga Yoga led by Sara Intonato, E-RYT 500, Authorized Level 2 Ashtanga Yoga teacher.