Eva Boccio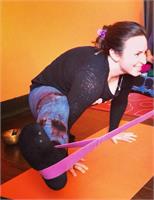 Eva is a registered yoga & pilates teacher. She is currently working on certifications for yoga therapy and Thai yoga massage. She has a background in dance and music which have introduced her to the love of yoga. Eva is also in graduate school to become a school counselor and would love to bring yoga into the school system. When Eva is not teaching or interning, she can be found playing with her dogs, being with her friends, or hanging out in nature.
Eva Boccio instructs the following:
Prana Flow classes are ritual practices of moving meditation, breath-inspired journeys that offer a complete spectrum of rhythms, from meditative and rejuvenating to challenging and empowering. The emphasis is on a bhavana, or feeling state, that takes us into multi-dimensional sequencing, energetic alignment all within the collective flow. We will connect fully to personal experience, syncopating individual waves of breath, thought, emotion, movement and energy while opening to
the power of the group dynamic.




Pilates is an innovative system of mind-body exercise evolved from the rehabilitation principles of Joseph Pilates. Pilates builds strength without excess bulk, concentrating on the "powerhouse" of the core. It teaches body awareness, good posture and easy, graceful movement through a series of exercises performed on the floor.