Jenny Van Dyke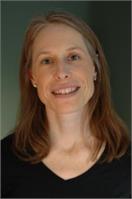 Jenny is a certified, registered yoga instructor who has been practicing yoga for 20 years and teaching for 15. She has dedicated herself to the study of Iyengar yoga, which emphasizes safety and healing through proper alignment in the poses, and meeting individual needs through the use of props. Jenny is also a speech therapist and special education teacher and has been working with children with special needs since 1995.
Jenny Van Dyke instructs the following:
This Level 1 class is influenced by the respected teachings of B.K.S. Iyengar. Attention is focused on technical alignment, the importance of the breathe and the use of props, such as blocks, straps, blankets and chairs. In an this class, poses are typically held longer than in most other styles of yoga, so that practitioners can pay close attention to the precise muscular and skeletal alignment.




This class focuses on postures that are appropriate for pregnant women with an emphasis on breathing, relaxation, and muscle toning/opening, especially in the area of the hips and pelvis, to make labor and delivery easier on both mom and child. Have the best possible pregnancy and delivery by learning to stretch and strengthen the body, focus and relax the mind, control breathing and develop awareness. Best of all meet a lovely community of pregnant women in your neighborhood! Yoga is a wonderful way to bond with your baby while he/she is in the womb. It also helps you to deal with all the changes happening to your body; this class will help you build the strength necessary during pre- and post- natal months as well as during labor. Practicing yoga will also keep your body agile and help you recover more quickly after the birth. These sessions are rolling so starting your session of classes at any time is allowed.
No prior yoga experience required.