Peggy Adair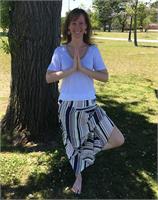 Peggy has been a student of yoga since 2003. She instantly connected with this beautiful practice loving the way it grounded and nurtured her. Trained in Anusara and Prana flow yoga, Peggy furthered her studies receiving a 200 Refined Flow Yoga Teacher Certification from Absolute Yoga. She enjoys inspiring others to improve their emotional and physical wellness. Her classes are encouraging, compassionate and well balanced. Peggy has also found a passion in combining yoga and journaling as a means of invoking creativity, healing and self-discovery.
A St. John's University graduate, Peggy worked as a professional accountant for 19 years. She is grateful to all her teachers who have inspired her along her journey, knowing that she will forever be a student of yoga. When she is not practicing yoga, Peggy enjoys reading, the ballet and spending time with family and friends.
Peggy Adair instructs the following:
This class is a great for anyone looking to reduce stress, release tightness in the body in a gentle way or anyone new to yoga. It begins with an extra gentle flow to open the body preparing oneself for a luxurious second part of class in Restorative Yoga Nidra. Yoga Nidra is a relaxation technique guided by the teacher's voice where you identify sensations throughout your body, and focus on your breath, while remaining in a state of relaxed awareness so that you may release deeply held tension in your body -- some which you may not even be aware of. Yoga Nidra will be used while the body is supported with blankets, bolsters, blocks in relaxing restorative poses - to allow the body to soften, open and bring you into a relaxed peaceful state.