Nancy Rich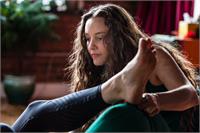 Nancy Rich, RYT-500, stepped onto the path of yoga seven years ago. Her love of the practice and the freedom she has discovered, both on and off the mat, informs her teaching. She serves her community by offering yoga to her students in a safe, nurturing environment. Nancy has received both her 200 and 500 hour Yoga Alliance Teaching Certification from Abhaya Yoga. The Abhaya Method focuses on deepening awareness while releasing holding and gripping patterns in the body. By integrating eastern philosophy, healing practices, western therapeutic and functional movement techniques a holistic approach is used to align, heal and guide the practitioner toward a deeper freedom.
Nancy Rich instructs the following:
Vinyasa flow classes link breath and movement to create a continuous fluid flow of postures. Vinyasa means "breathe-synchronized movement" and the beauty of this class is that the sequence, or "flow", can be different in each class, even with the same instructor. Level 1 classes are taught at a slower pace to allow you to experience postures fully and to learn to incorporate modifications appropriate for your abilities and limitations.




This nourishing workshop blends the healing practices of Yoga Nidra with Restorative Yoga for deep relaxation and powerful transformation. Yoga Nidra, or "sleep with awareness", is a time honored practice which dissolves obstacles and support us on our path to discover our True Nature.

Benefits of Yoga Nidra & Restorative Yoga:
- Cultivate Relaxation- Reduce Chronic Stress
- Boost the Immune System
- Promote a Restful Sleep
- Create a Greater Sense of Ease in our Relationships

Come experience the deep peace that lives within you.

All levels welcome. Space is limited.
$30 investment in your peace of mind.