Nancy Rich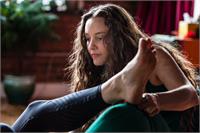 Nancy is grateful that the path of yoga found her. Her love of the practice and the freedom she has discovered both on and off the mat inform her teaching. She teaches the Abhaya Method, created by her teacher, Tara Glazier of Abhaya Yoga in Brooklyn, which focuses on the return to our natural state and deepening awareness while releasing holding and gripping patterns in the body. Through the integration of Eastern philosophy, healing practices, Western therapeutics and functional movement techniques, the Abhaya Method uses a holistic approach to align, heal and guide the practitioner toward a deeper freedom. Nancy currently assists with teacher trainings at Abhaya Yoga and serves her community by offering yoga classes and workshops in a safe, nurturing environment.
Nancy, a graduate of SUNY Stony Brook with a dual bachelors degree in women's studies and psychology, has received 500 hr. Yoga Alliance Teaching Certification from Abhaya Yoga, BK. Additionally she has earned her E-RYT 500 hours; receiving 100 hours of Anatomy & Therapeutics Yoga Alliance Certification with Sarah Tacy Tangredi; Yoga Alliance approved Restorative Teacher training with Gisele Mogan; 40 hours of Yoga Nidra Certification and 126 hr Ayurvedic Yoga Therapy Certification through Sivananda Institute in collaboration with Dr. Marc Halpern of The California College of Ayurveda. Her interest in deep practice of Yoga Nidra has called her to assist Dr. Halpern with his Yoga Nidra certification course. She obtained a 45 hr Ayurvedic Massage and Body Therapy Certification from the California College of Ayurveda, where she is currently enrolled in the Ayurvedic Health Counselor program. Nancy is also Reiki Master Practitioner of the Usui System of Reiki Healing, aromatherapy practitioner and delights in the ability to offer different healing modalities to her students.
www.nancyrichyoga.com
Nancy Rich instructs the following:
This nourishing workshop blends the healing practices of Yoga Nidra with Restorative Yoga for deep relaxation and powerful transformation. Yoga Nidra, or "sleep with awareness", is a time honored practice which dissolves obstacles and support us on our path to discover our True Nature.

Benefits of Yoga Nidra & Restorative Yoga:
- Cultivate Relaxation- Reduce Chronic Stress
- Boost the Immune System
- Promote a Restful Sleep
- Create a Greater Sense of Ease in our Relationships

Come experience the deep peace that lives within you.

All levels welcome. Space is limited.
$30 investment in your peace of mind.