Maria Renna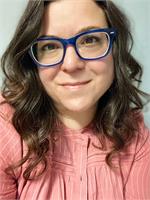 Maria, of RenZenYoga Jewelry & Accessories, has a BFA from FIT, a Master of Early Education from St. Johns, and is a recent graduate of Absolute Yoga Studio's 200 Hour Refined Flow Yoga Teacher Training. Before becoming a part of Absolute's team, she worked as a graphic artist for over 10 years. Her yoga journey began at Absolute more than 8 years ago. Though she left the graphic design world behind, her creative talents have become useful as Absolute's media guru - maintaining our social media and creating flyers for our offerings.

It's clear Maria has always been happiest when creating and using her hands to craft. She fell in love with making sacred mala jewelry when we hosted a workshop and hopes you will, too!
Maria Renna is currently not instructing any classes.