Kristen Orsini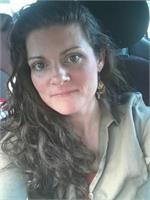 Kristen is a 200 RYT with Yoga Alliance through Absolute Yoga's Refined Flow teacher training, as well as a Reiki Master Teacher of the Dr. Usui lineage through the Sanctuary of Peace. She has also undergone Lore Kent's Chair Yoga teacher training, is a Certified Ageless Grace® Educator and an IET® Healing Practitioner. Kristen is co-founder of Radiant Healing @ Absolute Yoga where she also teaches chair yoga.
With an emphasis on self-care and mindfulness, Kristen encourages her students and clients to connect with their own inner wisdom, accessing and strengthening their own unique gifts to share with their communities. Kristen has seen the transformative power of a regular yoga and Reiki practice in her own life and is passionate about sharing this vibrancy with others. She is deeply grateful to her many teachers and supporters over the years who encourage her to always "reach for the stars".
Kristen Orsini instructs the following:
This class is for anyone who has ever hesitated to try yoga because of the challenge of getting down or rising up off the floor as required for a traditional yoga class. Now a chair becomes your mat. This unique yoga style adapts yoga positions through creative use of the chair. The student is able to warm up the body safely and perform yoga poses with more support and stability. Most of the class is performed seated in the chair or using the chair as support. Chair Yoga is suitable for all ages, fitness levels and physical conditions. The class also includes breathing techniques, stretching, strengthening, meditation and a lot of fun – all while sitting in a chair!