Evelyn Fleck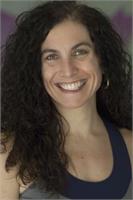 Evelyn Fleck began practicing yoga in 2001 to help manage the stress of a busy life. As her studies progressed, the richness of the yoga unfolded along with the transformative aspects. She has been studying Ashtanga and Vinyasa Flow with Adam Dobbs since 2002 and attributes to him her discovery of the true essence of yoga. She has also enjoyed attending workshops with David Swenson and David Williams. In her quest to delve deeper into her practice, Evelyn began studying Anusara Yoga in 2003 with Amy Ippoliti. She believes the marriage of flow with breath and alignment is a perfect fit. Since that time she has attended numerous workshops with Amy Ippoliti, Desiree Rumbaugh, and John Friend. In 2005 she completed her first Immersion with Amy. In 2007 she completed a 200-hour teacher training with Sue Elkind and Naime Jezzeny and is certified through Yoga Alliance. Evelyn is also a student and practitioner of Buddhist meditation, philosophy, and Yin Yoga. She has been studying regularly with Sarah Powers since 2003 and has been greatly influenced by her as well as the teachings of Sharon Salzberg and Pema Chodron. It is with much gratitude that she thanks all her teachers for guiding her on the yogic path including her husband, Greg, who has been one of her greatest teachers. Evelyn wishes to share her love and passion for yoga with her students and hopes that everyone can experience its transformative effects
Evelyn Fleck instructs the following:
Vinyasa flow classes link breath and movement to create a continuous fluid flow of postures. Vinyasa means "breathe-synchronized movement" and the beauty of this class is that the sequence, or "flow", can be different in each class, even with the same instructor. Level 1 classes are taught at a slower pace to allow you to experience postures fully and to learn to incorporate modifications appropriate for your abilities and limitations.




The practice of Yin Yoga provides the perfect balance to your active (Yang) yoga practices and your busy life. Focusing on long-held floor poses combined with breath work and meditation, Yin Yoga goes beneath the superficial muscles to target the dense connective tissues of the body – often in the hips, pelvis, and low back – which are difficult to open and can result in both limited flexibility and stagnant energy. This deep practice is gentle, yet intense, helping students not only open the body, but also to cultivate the ability to observe and stay with sensation. This meditative practice will be augmented with one or more guided meditations throughout the class. This is an All Levels class open to every one regardless of ability or fitness level. The instructor will modify postures for beginners and increase the challenge for more advanced students.