Adam Dobbs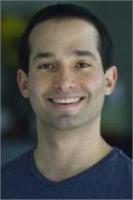 I
n 1997 Adam completed the Spiritual Lifestyle Program at The Kripalu Yoga Center and later that year worked on staff at the Omega Institute for Holistic Studies. He holds certification in Kripalu, Ashtanga and ISHTA yoga schools and is also a Licensed Massage Therapist with continued studies in Thai and Ayurvedic Massage. Adam has had additional training in the Art of Contact Yoga/Yogassage under Nateshvar Ken Scott and studied under Edward Clark of Tripsichore Yoga Theatre in both the U.S. and London. Adam has maintained a daily meditation practice since 1995 tand has been a yoga teacher since 1997. Adam emphasizes meditation and the spiritual aspects of yoga within his own personal practice as well as within his teaching.
Adam Dobbs instructs the following:
Vinyasa flow classes link breath and movement to create a continuous fluid flow of postures. Vinyasa means "breathe-synchronized movement" and the beauty of this class is that the sequence, or "flow", can be different in each class, even with the same instructor. This Level 2/3 class is powerful and dynamic. The yoga practice incorporates arm balances, inversions, and energetic sequences that challenge the body and stimulate the mind. You must have a knowledge of the basic postures. The teacher will provide detailed instruction on how to advance to deeper postures.




The primary series of the ashtanga system as modified for time. This flowing, set, sequence of postures utilizes ujjayi breath and bandhas (energy locks) to increases muscular strength, flexibility, concentration and to deepen one's connection to self and Supreme Consciousness. This class is not for anyone new to yoga.