Adriene Passannante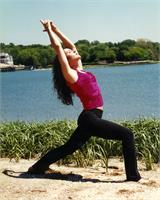 Adriene has been a dedicated student of her practice for over 20 years. After exploring many styles of yoga, she happened upon a class given by Alan Finger at Yoga Zone, and that experience changed her idea of what yoga was all about. "I loved that ISHTA Yoga was about finding your personal path, and that the asana and meditation techniques were easily accessible to all. It seemed like a very natural practice for me." Shortly thereafter, Adriene became the studio manager at Yoga Zone in Old Brookville, and was inspired to teach. She completed her teaching certification in 2000 under the guidance of Alan Finger. She continues her studies by frequently attending workshops, classes and intensives taught by well respected teachers in various styles of yoga, bringing an eclectic mix to her classes. She combines the emphasis of the breath, with a flowing, vinyasa sequence that guides her students to find their edge while honoring themselves and the transformation that yoga can bring.
Adriene Passannante instructs the following:
Vinyasa flow classes link breath and movement to create a continuous fluid flow of postures. Vinyasa means "breathe-synchronized movement" and the beauty of this class is that the sequence, or "flow", can be different in each class, even with the same instructor. Our All Levels classes are open to every one regardless of ability or fitness level. The instructor will modify postures for beginners and increase the challenge for more advanced students.