Sharon Greenstein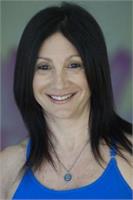 Sharon has been sharing her love of yoga through her teaching since 2001. She began this quest by taking a Yoga Fit Certification which enabled her to teach a fitness based vinyasa flow class while maintaining the safety of proper alignment. She then expanded her studies with a 200 hour certification in ISHTA yoga from Be Yoga under the guidance of Alan Finger. This training incorporated not only the additional attention to alignment that is very prominent in her style of teaching, but also added a meditative and philosophical flair to her classes. In addition, she has completed trainings in Yoga Kids as well as Power Pilates. Now an Anusara™-inspired instructor, she brings further alignment refinement and heart opening qualities to her classes. To add to her versatility, she has attended workshops in Anusara™, Ashtanga, and Vinyasa Flow taught by master instructors John Friend, Baron Baptiste, Shiva Rea, and David Swenson, as well as many others.
Sharon Greenstein instructs the following:
Based on the powerful Hatha yoga system founded by John Friend, that unifies a unique and elegant system of physical alignment with heart-oriented spiritual philosophy. Our classes combine flowing sequences of poses with poses that are held for longer periods to encourage you to refine alignment awareness. Our All Levels classes are open to every one regardless of ability or fitness level. The instructor will modify postures for beginners and increase the challenge for more advanced students.




A flow class with a focus on precision and alignment. Each class offers a theme for on the mat as well as living off the mat.