Leslie Luft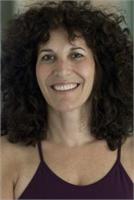 Leslie is the owner and director of Absolute Yoga and an E-RYT 500 Yoga Alliance registered instructor. Prior to opening the studio and becoming a full-time yoga instructor and practitioner, Leslie spent 20 years working as a corporate/securities attorney in New York City and Long Island. When the stress of her career and the commute, together with her full time job as a mom to her two children, became overwhelming, she turned to yoga, which she had dabbled with on and off in college. Enjoying the many benefits that yoga had to offer her, she was inspired to get her teaching certification and bring the gift of yoga to others. Leslie received her 200 hour Yoga Alliance certification in ISHTA Yoga. Developed by Guru Alan Finger, ISHTA yoga is a modern, dynamic distillation of spiritual traditions which allows you to develop a personal yoga practice that meets your individual needs. Leslie has continued her studies in various styles of yoga, including Anusara™ yoga and is an Anusara™-inspired instructor. She has her 500 hour Yoga Alliance teaching certification from the Long Island Yoga School. She brings to her classes the benefits of each of these various styles, combining emphasis on the breath, with precise alignment, in a dynamic Anusara™ inspired sequence, encouraging her students to open not only their bodies and their mind, but also their hearts. She also has a certification in Pre-Natal yoga. Leslie credits her husband with encouraging her to follow her heart on her yogic journey and share her joy with others in the studio. She is thankful to all of her teachers who have inspired her and given her guidance over the years.
Leslie Luft instructs the following:
Based on the powerful Hatha yoga system founded by John Friend, that unifies a unique and elegant system of physical alignment with heart-oriented spiritual philosophy. Our classes combine flowing sequences of poses with poses that are held for longer periods to encourage you to refine alignment awareness. Our All Levels classes are open to every one regardless of ability or fitness level. The instructor will modify postures for beginners and increase the challenge for more advanced students.




Based on the powerful Hatha yoga system founded by John Friend, that unifies a unique and elegant system of physical alignment with heart-oriented spiritual philosophy. This Level 1 class is designed for those who are new to yoga or who want to review the fundamentals. Level 1 classes are taught at a slower pace to allow you to experience postures fully and to learn to incorporate modifications appropriate for your abilities and limitations.




Yoga has so many benefits: relieving stress, lowering blood pressure, creating a sense of balance and well-being in the body and one's life, building strength, increasing flexibility, and more. Why not try it? This is an 8 week series of classes designed for the absolute beginner. Yoga postures and breathing techniques systematically taught creating a foundation for good alignment and form. Yoga philosophy and meditation will be introduced.




For new moms and your babies (up to active crawling), this class helps you stay centered, strong and aware during your first months together. We do as much mommy yoga postures and stretches as we can to regain strength and tone the body after childbirth. We alternate with baby stretches, songs and games, mommy and baby partner poses, infant massage, discussion, and sharing. These classes have their own special rhythm, following the needs of the babies. Laughter and smiles are shared in this class! Bring a blanket for your baby and dress baby in comfortable clothes with the ability to bare their little feet. No prior yoga experience necessary for mom or baby!




A class created to help manage some multiple sclerosis symptoms and allow the student to stay active. Unhurried movement and slow stretching to reduce stress and muscle tension.




Melding dynamic vinyasa with precise alignment, Absolute Yoga's Refined Flow Teacher Training will enable students and aspiring teachers alike to explore a comprehensive, embodied practice whether they are looking to deepen their own personal yoga experience or guide others in theirs. The Refined Flow approach focuses on proper alignment of asanas (postures), meditation and pranayama, with in-depth studies in anatomy and physiology as they relate to yoga, philosophy, teaching skills and the business of yoga.

Our mission with the Absolute Yoga Refined Flow Teacher Training Program is to guide you on a journey to deepen your own practice and knowledge of yourself, while empowering you to safely teach and inspire others to live their most vibrant, joyful lives. It is our firm belief that happy, healthy people are the only people who can help build a happy, healthy world. This is the work of being a teacher. It begins with the individual and spreads as you live yoga – live union – live love – in your life.